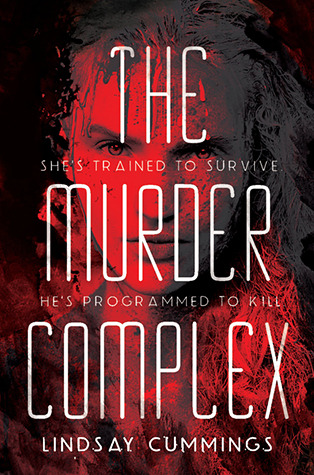 Author: Lindsay Cummings
Title: The Murder Complex
Series: The Murder Complex #1
Publication: June 10, 2014
Publisher: Greenwillow Books
Source: Publisher
Synopsis
An action-packed, blood-soaked, futuristic debut thriller set in a world where the murder rate is higher than the birthrate. For fans of Moira Young's Dust Lands series, La Femme Nikita, and the movie Hanna.

Meadow Woodson, a fifteen-year-old girl who has been trained by her father to fight, to kill, and to survive in any situation, lives with her family on a houseboat in Florida. The state is controlled by The Murder Complex, an organization that tracks the population with precision.

The plot starts to thicken when Meadow meets Zephyr James, who is—although he doesn't know it—one of the MC's programmed assassins. Is their meeting a coincidence? Destiny? Or part of a terrifying strategy? And will Zephyr keep Meadow from discovering the haunting truth about her family?

Action-packed, blood-soaked, and chilling, this is a dark and compelling debut novel by Lindsay Cummings.
Meadow lives in a world where diseases have been cured and death by natural causes completely eliminated. Each human has a nannite that controls sickness but because no one dies naturally, there is over-population and some people are programmed to kill to keep the number down. Meadow lives with her father, brother and little sister on a boat and it's coming her turn to take the test to figure out where she will be placed. If she gets a job it will bring more food rations to her family. Her mother died when she was younger and she really doesn't know much about her but a secret will be uncovered when things become dangerous for Meadow. Zephyr dreams of a girl with silver hair and one day he meets her, Meadow, who isn't supposed to have contact with him but an accident happens and their fates become intertwined. Meadow's trained all her life by a father that seems cruel but wants her to survive but Zephyr's programmed to kill and she has become his next target. Desperate to find a way to keep her safe, their journey leads them to a resistance group determined to end the Murder Complex. Overall, I liked this book and the characters. The story telling is fast paced and loaded with action-packed gory sequences. Meadow can come across as detached and unfeeling but her upbringing could be the cause of that plus she can kick some major butt. She's a fierce character with the potential to grow more in the next book, which I want to read because that twist at the end was completely unexpected. I think anyone looking for a quick thrill ride may enjoy this one.