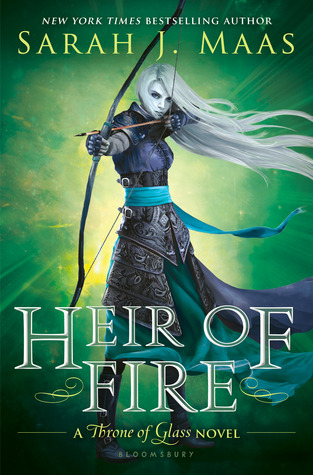 Author: Sarah J. Maas
Title: Heir of Fire
Series: Throne of Glass #3
Publication: September 2, 2014
Publisher: Bloomsbury USA Childrens
Source: Publisher via Netgalley
Website
Synopsis
Lost and broken, Celaena Sardothien's only thought is to avenge the savage death of her dearest friend: as the King of Adarlan's Assassin, she is bound to serve this tyrant, but he will pay for what he did. Any hope Celaena has of destroying the king lies in answers to be found in Wendlyn. Sacrificing his future, Chaol, the Captain of the King's Guard, has sent Celaena there to protect her, but her darkest demons lay in that same place. If she can overcome them, she will be Adarlan's biggest threat – and his own toughest enemy.

While Celaena learns of her true destiny, and the eyes of Erilea are on Wendlyn, a brutal and beastly force is preparing to take to the skies. Will Celaena find the strength not only to win her own battles, but to fight a war that could pit her loyalties to her own people against those she has grown to love?
Celaena has grown so much in this book, Her weakness and fears are what strengthens her, I enjoyed seeing her battle with her past and embrace her destiny. It was nice that this was something she had to do with out the boys. I did like the new character and how their friendship blossoms and how he challenges her to control her magic. Her journey in this book drew me in and made me love her character even more. I found it interesting why she's so afraid to just let go, which in turn adds more pressure when so many are relying on her success. I was a little put off at first by the new female character perspective being integrated into the story but then it all came together for me and I had an oh moment. Loved the writing and the pace of the story. The characters are amazing, real and I could visualize the world so clearly. Great read and my favorite in the series.