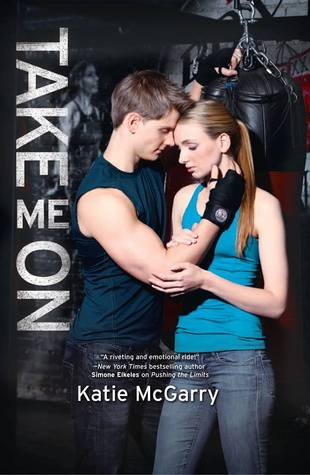 Author: Katie McGarry
Title: Take Me On
Series: Pushing the Limits #4
Publication: May 27, 2014
Publisher: Harlequin Teen
Source: Publisher via Netgalley
Synopsis
Acclaimed author Katie McGarry returns with the knockout new story of two high school seniors who are about to learn what winning really means.

Champion kickboxer Haley swore she'd never set foot in the ring again after one tragic night. But then the guy she can't stop thinking about accepts a mixed martial arts fight in her honor. Suddenly, Haley has to train West Young. All attitude, West is everything Haley promised herself she'd stay away from. Yet he won't last five seconds in the ring without her help.

West is keeping a big secret from Haley. About who he really is. But helping her-fighting for her-is a shot at redemption. Especially since it's his fault his family is falling apart. He can't change the past, but maybe he can change Haley's future.

Hayley and West have agreed to keep their relationship strictly in the ring. But as an unexpected bond forms between them and attraction mocks their best intentions, they'll face their darkest fears and discover love is worth fighting for.
I just can't get enough of these books! Haley's a tough character dealing with a heavy emotional situation. She's not afraid to fight, well actually she's terrified. She's holding on to a secret from her past that could mean danger for her family, if it ever gets out. West loves to get in trouble but he usually fights for a reason and his sister Rachel is number one. His last episode cost him dearly and he finds himself out on the streets and at a new school. West new life is in Haley's territory and somehow he gets tangled up in her problems. He's cocky, confident and completely unprepared for the mess he's gotten himself into but he knows she's worth the risk. Haley tries hard to fight her attraction to West but what develops between them is much more than she ever expects. I enjoyed the romance and struggle, the two main characters face together and the battles that must overcome on their own. They both have to trust that they aren't worthless and they deserve better. The characters are so real and engaging. It's was nice learning about a different atmosphere and two fighters become something more than what they believed they could be. Overall, the writing is on point, its fluid and emotional. The story is realistic and I think anyone can relate to the characters' world.